Arlo and LearnDash Integration
Getting Started Guide
Integrate Arlo with LearnDash to deliver awesome online and blended training courses.
Our easy-to-install WordPress plugin will have your customers enrolling through Arlo and studying in LearnDash in just a few  minutes.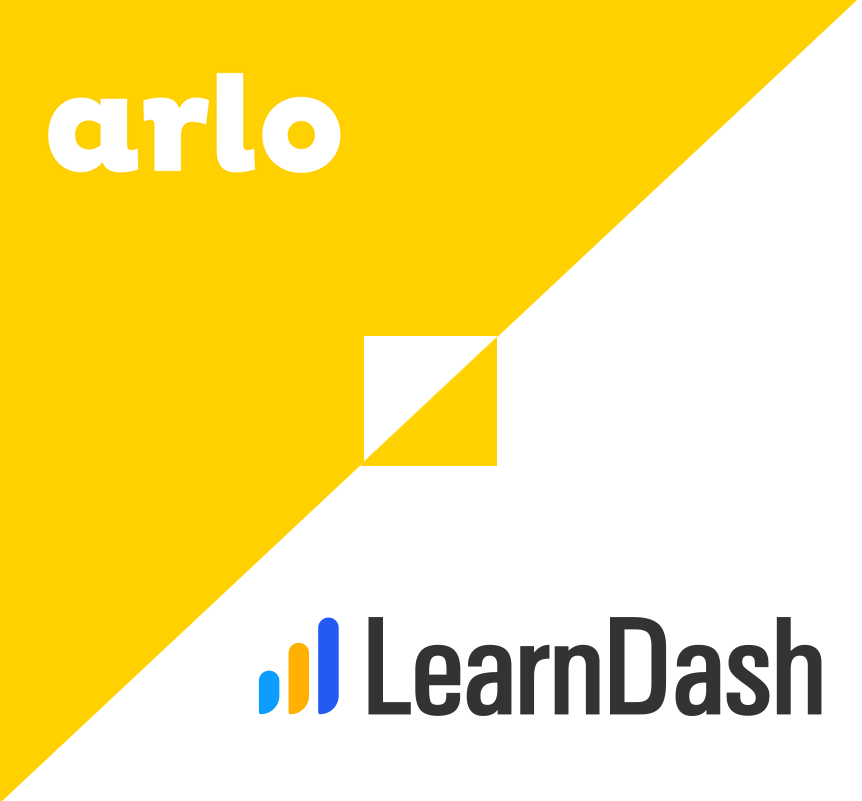 Getting started with the Arlo-LearnDash Integration Plugin
This Getting Started Guide will talk through the steps involved in setting up the Arlo and LearnDash Integration plugin. Before commencing, you'll need to purchase and download the plugin first.
1. Installing the plugin
After a successful purchase, you should receive an email with a link to your plugin and license key. The steps below will show you how to install your new plugin.
Within the WordPress dashboard go to Plugins -> Installed Plugins, then choose Add New.
Select Upload Plugin.
Once uploaded and installed, click on Activate Plugin. You will only be able to activate the plugin if you have LearnDash installed and active on your system.
After activation, you will be asked to enter your License key. This can be found in your purchase email, or via your Freemius account.
2. Connecting to Arlo
After installing your plugin, it's time to connect it to Arlo. The first step is to create a new Contact in your Arlo account, which will be used to communicate between Arlo and your WordPress/Learndash system.
Log into your Arlo platform, then select Contacts from the top bar
Select New contact to create a new contact
Give your contact a First name, Last name and Email address. This email address should ideally be related to your company domain (e.g.

[email protected]

<yourdomain>.com). Note down this email address for later
Under the Security section, tick the Access to the API and System administrator boxes, then choose Save and close
In the Contacts section, find your newly created contact and click on their name. There should be an option to Activate now in the top left of the page. Click on this link.
Enter a password for the newly created contact here and note it down for later
Now that you have created the account, we can use it to connect your platform to Arlo.
Head to Arlo and LearnDash Integration -> Settings. You should see a notice to say that your site is not yet connected to Arlo.
In the Arlo Platform URL field, enter the address of your Arlo platform. This should just include the <yourplatform>.arlo.co part and not the https:// before it.
Enter the account details for the Arlo contact that you just created into the Arlo API user email address and Arlo API Password fields, then click Save Changes
 If everything has been set up an entered correctly you should now be connected to Arlo.
3. Setting up Integrations
Now that you've connected to Arlo, it's time to link your Arlo events and online activities to LearnDash courses and groups. We do this by setting up Integrations.
Head to the Integrations tab within the Arlo and LearnDash Integration settings and choose New integration
A new section will appear that allows you to configure this integration. On the left hand side, you can select the Online activity or Event in Arlo that you want to link to your LearnDash content.
On the right hand side you can choose whether you want any users from Arlo to be added a LearnDash course or a LearnDash group. Depending on your choice, you can select from a dropdown of available courses and groups.
Next to the LearnDash settings you will find some options for this integration. You can choose whether or not you want this integration to actively add new users.You can also choose whether or not you want the Arlo completion status to be updated when the learner completes their content. If the learners are integrated with a course, this would mark them as complete after completing the LearnDash group. If the learners are integrated with a group, this would mark them as complete after the learner completes all of the courses in their group
If you choose to enable the "Update Arlo grade when the learner completes a specific quiz." option, you'll see some new fields appear. From here you can select one of your LearnDash quizzes and whenever a learner from Arlo completes it their percentage score will be passed back to Arlo and recorded as a grade in their Event/Elearning registration. You can choose whether you want the plugin to pass the learner's most recently achieved quiz score, or the highest score they have ever achieved each time they complete it.
Once selected, click Save Changes to create your new Integration
Once an Integration has been created, the system will check for new users in each every 5 minutes. However to save on system resources it will only pull in recently registered users. To import all historical users from an Arlo online activity or event, click on the Import historical users button. Be aware that this may take a while, particularly if your event has lots of registrants
4. Customising the welcome email
When the plugin imports learners into your system it will automatically create them an account and send them email with their login details. Within the plugin settings it is possible to customise this email.
Head to the Communication tab of the Arlo and LearnDash Integration plugin's settings. Notice that the subject and content of the email can be populated here.

The email must always contain some login details, so the fields here allow you to add some content above and below where these appear.

Populate these fields with any information that you would like to include and then click Save Changes
Troubleshooting and support
We're here to help you get the most out of your plugin. If you need help, or would like to report a big or suggest a feature please head to our Support page.
If you experience any issues with the plugin, please head to the Get help tab. Within here you will find a Troubleshooting section that provides key details about your system that are required for the integration to work. If any of the items in this list are red, then it suggests a problem that may need to be resolved. There is an option to download this information by clicking the Download details button. If you get in touch with a support query we may ask you to send us this information to help us assist with the issue.